Homesteading Seeds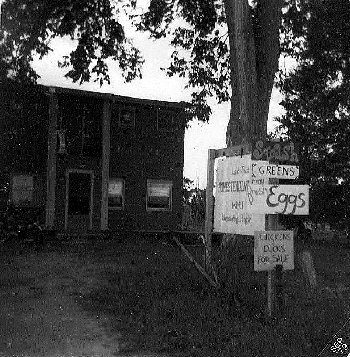 A reunion of the Homesteading Farm students brings a chance to ponder how my homesteading experiences influenced my life. Some vibrant seeds were planted and nurtured back in Bangor in 1979.....What seeds? Did these seeds germinate and grow through the thicket of time? I wonder...
I came to the farm as part of my studies in environmental systems at the University of Michigan. I went on to get a Master's degree in urban planning. I hoped to use my degree to influence communities towards wise land use and stewardship. Some kernels of thought, insight and inspiration were planted or helped along at the Land Trust Homesteading Farm. These are some of them:

1) Stewardship... on the farm I was able to appreciate the direct responsibility a land owner and farmer has towards maintaining a healthy soil and ecology. One person or family can have a huge impact, and as a society we should work towards enabling people to achieve this.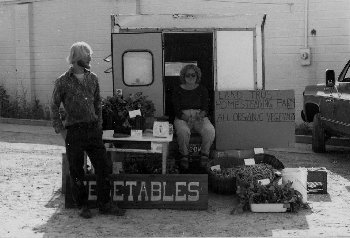 2) Organic vegetable gardening and farming..... It can be done, that's what we came to learn. I became a lifelong gardener because of our vegetable garden. What a revelation to taste really fresh sweet corn, tomatoes and peppers!! Food the way it was meant to be!! I became a passionate advocate for organic farming.
I believe that the way we grow and raise our food is the key environmental issue and has profound social and ecological repercussions. Professionally some of my most rewarding work involved helping Vermont farmers preserve their prime farm land in the face of development pressures. Politically, I've done a lot of letter writing and voting on the organic issue, and as a consumer I try to always buy organic.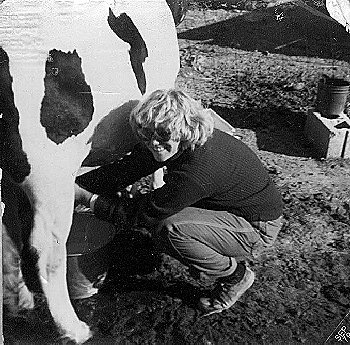 3) Self-reliance......What a joy to have work that requires you to do an infinite variety of tasks, all in your own self-interest. Challenged to improvise solutions to the myriad problems that develop daily, you become full of confidence and pride. It comes down to you, but you can do it! What a feeling of satisfaction. All work should engender this type of pride and self-respect.
4) A good days work....physical labor, brings peace and contentment. The combination of physical outdoor work, in harmony with the day and seasons, and the mental challenges of running a farm are the perfect combination for a peaceful, healthy body and mind. The joys to be had from jumping into a cool clear pond after a sweaty afternoon weeding the garden are hard to beat!!
5) Spontaneous bounty of the land. Learning to identify and use wild edible plants and herbs was a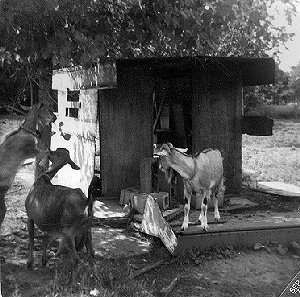 revelation to me. Now I can see the fertility and perseverance of nature everywhere. To go through life not recognizing what is put before us is blindness.
6) Animal Husbandry is hard work!! A kind of truce must be established, but the role of the animal on a self-sufficient farm is undeniably vital. The interdependent role of animals in the homesteading setting gave a realistic contrast to the agribusiness commodity treatment of animals. Living with
animals requires mutual respect. Another lesson in humility for us.
7) Living in harmony with the seasons and the day is much more interesting and rewarding than pretending that each day is like the rest. To relish the bounty of peach season to the fullest, is to recognize how to gracefully accept the gifts of nature.
8) Co-operation pays in so many ways. The amount a group can accomplish is astounding. Living as an alternative family is a satisfying social option. Shared responsibilities can bring out hidden talents. I became involved in co-operatives for the remainder of my college years. As a professional planner I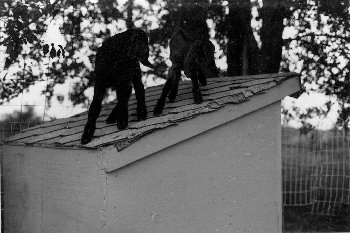 encourage communities to provide housing that can work for groups and alternative families. Why foster loneliness and inefficiency, when the alternative can be so much fun.
Well, thanks for indulging my reminiscing. Peace. Linda (Olson) Pehlke

---
Linda can be reached at: LPehlke@aol.com
---
Back to Homesteading, a Compilation home page