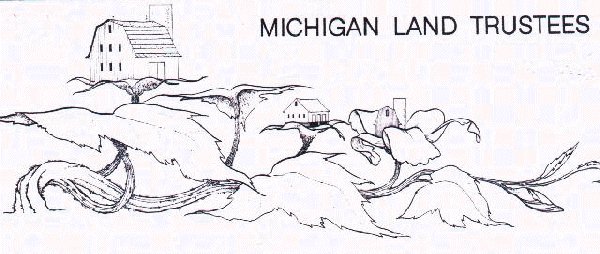 Newsletter
January, 1998
The other day, Michigan Public Radio ran a feature on the loss of farmland and open space. Urban sprawl was the main culprit. At one point in the program, there was a tape of the governor as he was attempting to placate an enclave of farmers gathered somewhere on the east side of the state. He acknowledged that the recent State Land Division Act was pretty feeble and that virtually everyone is unhappy with what it has done or with what it was intended to do. But he also cautioned the farmers that attempts at land preservation often conflict with individual property rights. And the governor is a champion of property rights. God love him.
Frankly, I don't mind people moving out to the country so much as I mind the shoddy suburban amenities that have followed hot on our heels: car washes, convenience foods, and all those lousy pole buildings with the vinyl facades and neon signs in the windows. Malvina Reynolds, the folk singer who sang about track house developments back in the 1950's (Little boxes, little boxes, little boxes full of ticky-tacky..), must be rolling over in her grave what with the introduction of the pole building to mass culture and its widespread acceptance. North of Mattawan; east, west and south of Paw Paw, south of Decatur; north and south of Lawton: in the last few years the landscapes around what were once rural villages have become profoundly ugly. Post-rural sprawl.
Many of us want to move away from metropolitan areas but, unfortunately, we are simply dragging the metropolitan areas with us with perhaps a few years of lag time. But I imagine that someday soon--when the San Joachim Valley is filled with salt, and antibiotic therapy can't touch the strains of E. Coli coming in on our imported foodstuffs, and everyone has seen every movie ever made for video, and cyberspace has left us all feeling flat and empty--the areas surrounding the villages will become green again. Green space will one day become vogue because we will all be gardening fools. Our very existence will depend upon it.
Meanwhile, don't despair.
Michael Phillips, editor
.
---
Cheap Food and the Loss of Farmland: A Farmer's Perspective
As I approach the time of retirement and actually begin planning to sell my 160 acre farm I find that my commitment to farmland preservation is wavering I had always hoped to sell the farm to another organic farmer, but as farmland prices rise (nine percent last year in Michigan) while prices for farm products stay the same and fail to keep up with rising expenses (repair, fuel, machinery, etc), farming may no longer be economically viable. Farm prices average below fifty percent of parity--what they ought to be to keep up with rising expenses Cheap food policies are making it impossible for medium-sized family farms to get started We like to think that the preservation of farmland will insure the continuation of family farms But only large farmers and corporations have access to the capital needed to buy farmland. Should we preserve farmland so that corporations can continue to gain control over agriculture and food?

The fact is, that I have been apprehensive about the ways in which the loss of farmland problem has been distorted and misrepresented ever since it emerged as a public issue in the 1970s. That was, we recall, the back-to-the-land decade. After the 1980 census, results were tabulated, demographers were able to verify an unprecedented "migration reversal" during the previous decade. Populations in non-metropolitan counties grew at a rate of almost 16 percent as compared to a rate of growth of about 9 percent in metropolitan areas This led to the furor over the loss of farmland in the 1980s with all its hyperbole and exaggeration--"Everyday in the United States 12 square miles of agricultural land are converted to nonagricultural uses"* Of course it was not all paved over for shopping centers; most was simply divided into smaller tracts and sold to the new rural residents who wanted to move beyond the suburbs And many of these were homesteaders who used the land to raise food for household use and local markets.
We must recognize that much of the farmland allegedly lost was lost only to production agriculture as seen from the perspective of the market system We should also remember that some of the proponents of farmland preservation were motivated by business interests. They wanted to see more crop production for the export market to offset the cost of imported oil. And they wanted corn for the production of ethanol which was a money-making possibility for the likes of Archer Daniels Midland even though it produced very little, if any, energy. And some of the land saved for corn production is lost through soil erosion.

Now, some fifteen years later, the issue of farmland loss is still with us in spite of efforts to preserve farmland. Here in Michigan we have PA 116, the Farmland and Open Space Preservation Program, which provides for refunds of a share of property tax, depending on house hold income, to farmers who transfer development rights to the state for a ten-year term. The Farmland Preservation Agreement can be transferred to another owner if the farm is intact. But if the agreement is terminated and the farm is divided into smaller parcels the farmer must pay the last seven years of tax refunds received from the state. I signed the Agreement in 1979 and must decide whether to terminate the Agreement in 1999.

A farm auction I attended recently has been helping me to make up my mind. The real estate was also sold and the auctioneer took bids first on the 140 acre farm as a whole. The highest bid for the farm as a whole was $140,000 He then took bids for the land divided into about a half-dozen parcels of various size. These bids added up to $251,000 and so the land was divided and sold to several buyers. Some of these may have been, or will be, part-time farmers who can afford to farm because they have off-farm jobs. And the land is there, ready to produce when farm prices rise to make it profitable

It is significant that the bonus received by the seller of that 140 acre farm for dividing it, about $111,000, was more than five times the amount that would have been needed to pay the last seven years of taxes, had the seller been in the Farmland Preservation Program. That program does not seem like an effective way to preserve farmland. Other programs have been proposed to pay farmers the difference between the value of the land for development and the value of the land for farming, but they would have to come from private or public agencies with very deep pockets. Farmland will be preserved for farming when farm prices rise to make farming profitable. As it is now many farmers are cash-poor and land-rich, working a lifetime to pay for their land They see no pay-back until they sell the land and, it can be argued, they deserve as much as they can get.

To whom should farmers, a large percentage of whom are old enough to retire, sell their land? We have already observed that medium-sized, full-time family farmers have a hard time, given low farm prices, of generating the capital to pay for land with produce from the farm. Given current trends toward corporate control and ownership of capital assets, including land, I lean toward dividing land to make it available to more rather than fewer owners In the long run, as global warming requires some reduction in the use of fossil fuel, we will need more labor-intensive small farms which use less energy in crop production. And, as more farmers produce for local markets, I think that more small farms will guarantee our food security and revitalize our rural communities more effectively than a few big corporate farms.
Maynard Kaufman
*Cynthia Fridgen, in an introduction to Sustainable Agriculture and Integrated Farm Systems, edited by C. Fridgen, T. Edens, and S Battenfield, MSU Press, 1985. My dissenting thoughts about the loss of farmland issue are included in essay published in this volume under the title, "The Pastoral ideal and Sustainable Agriculture."
---
A Small Land Owner's Perspective
A couple of years ago a Grand Rapids businessman swooped down over several rural counties in southwest Michigan with a lot of cash. He bought a number of parcels of farmland, including 120 acres in the heart of Porter Township. Several farmers had tried to buy what my dairy farmer neighbor described as "prime" farmland but the businessman outbid the farmers. He leased the parcel to a collective near Schoolcraft who put it in corn for a couple of years. Then he waited.

Porter Township had a land division ordinance that limited initial land division to minimum splits of ten acre parcels with a provision for subsequent splits down to five acres after five years. People were moving into the area but the township remained firmly agricutural. At a planning commission meeting last spring, it was estimated that the current population has slightly more than doubled since 1973 (2,200 residents). Most of the development has taken place around the multitude of lakes in the area or on the outskirts of the Village of Lawton, which spills into the township. (One afternoon, I road my bicycle five miles from my home into the village and saw only two other vehicles.)

In April of 1997, the State of Michigan implemented changes to the State Land Division Act in what was supposed to be an effort to preserve farmland and open space. Township land use planning was suddenly usurped. Immediately, "for sale" signs went up on the 120 acre site. Under the new farmland preservation law, the 120 acres could be divided into 19 two-acre splits with 220 feet of road frontage and an interior of 82 tillable acres. The businessman was well prepared as the tract had been surveyed in anticipation of the new law. Elsewhere in the township, a second land split went up for sale in an effort to cash-in on Governor Engler's April Fool's legislation. The township was scratching its collective head.

There were board and township planning commission meetings throughout the spring, summer, and fall. The planning commission responded to the changes in the State Land Division Act with proposed changes to the minimum lot size requirements on agricultural splits. The planning commission concluded that the township should increase the minimum road frontage from 220 feet to 330 feet. Had such a land use ordinance been in effect when the Grand Rapids businessman started selling off his tract, there would have been only 13 splits with an interior of 875 tillable acres. ( I estimate that the poor bastard would have made $78,000 less than he will make now.)

Since the proposed change to the township land division ordinance appeared to be the only option available to check such development, several neighbors and myself organized in an effort to back it The five member township board was split with one member undecided. (The two members opposed to the increase in minimum lot size are large land owners In fact, at a public hearing, one of them even stood up and reported that he could reap a substantial profit with the new State Land Division Act.) My neighbors and I went door to door. We made phone calls, wrote letters, and gathered signatures. When a special hearing was called prior to the vote, we made sure that the township hall was packed. Moreover, many of us had prepared statements which we believed would compel the fifth board member to vote for the change.

I estimated that of the 50, or so, residents who attended the special hearing, over two-thirds of them voiced support for the proposed land division ordinance change And there wasn't any organized opposition, which surprised me. I had expected the two board members opposing the change to muster a challenge.

The hearing was generally solemn and civil; except for two bitter second and third generation land owners with fallow land locked into the Farmland Preservation Program. They were whinny and contemptuous of anyone living on less than ten acres, and yet they wanted to be able to sell-off the maximum number of splits. Then there was one daft, colorless fellow who reported that increasing the minimum road frontage simply meant that each household would have more grass to mow. On the other side, no one begrudged farmers for wanting to quit farming and sell their land; but the outsider subdividing the 120 acres appeared to have galvanized most of those in attendance. Throughout the meeting there was no debate and very little dialogue; just hour after hour of public comment with a modicum of response from the board members.

At the following township board meeting the proposed land division ordinance passed on a three to two vote.

From where I now sit, there is farmland for sale and houses being built or delivered a mile or so away in every direction. (The beautiful, ironic thing about modulars is that they will breakdown and crumble after 15 or 20 years as if they are biodegradable.) At the 120 acre plat a quarter mile to my north, three houses are going up and another three or four lots have been sold. There are rumors that the businessman is going to sit on two adjoining lots so that he can gain quick access to the interior farmland in the hopes that one day soon that too can be subdivided. Meanwhile, the diary farmer's son frequently loads manure into a spreader and makes pass after pass over the same narrow strip of field directly across the road from 15 of the 19 splits.

When does a rural communny cease to be rural? Development might be slowed, but it can't be stopped. Perhaps it canít be slowed? The problem with Porter Township is that it's too close to Kalamazoo and Portage. Itís too close to 1-94 ten miles north. I have no illusions that the increase of minimum land split road frontage from 220 feet to 330 feet is going to make much difference in the effort to preserve the character of this rural community. Perhaps farmland preservation in Porter Township, and elsewhere, might be the silver lining in an economic bust?
Michael Phillips
---
Reunion News
Last winter, we started scrounging up addresses of former students of both the School of Homesteading and the Land Trust Homesteading Farm from 1973 to the present. We sent out mailings to the mostly ancient addresses with mixed results. Then more recently, I did an Intemet search of addresses with some luck and have just sent mailings to those addresses. We are still awaiting results from that mailing. There will also be an open invitation for friends and associates involved in any way in the homesteading or organic farming movement.

The dates for the reunion are July 25 and 26, 1998. Camping will be available on either of the two farms or there are motels nearby (advanced reservations are advisable). The reunion agenda remains to be determined.

For those latecomers unfamiliar with this history, a summary is in order: In 1973, Maynard and Sally Kaufman started the School of Homesteading on a 100 acre farm near Bangor, Michigan. Students lived on their farm while learning organic farming, livestock husbandry, and food preservation. Appropriate uses of technology were used and explored. Approximately six to ten students spent the growing season on their farm every year through 1977.

That year, 1977, saw the formation of the Michigan Land Trustees and the donation of a nearby 36 acre farm. Western Michigan University offered a class in homesteading practice under the auspices of the MLT on their farm in a format similar to the Kaufman's School of Homesteading. An instructor was hired and the Land Trust Homesteading Farm taught homesteading skills through 1984. In 1980, WMU dropped their support without much effect in enrollment at the time. Unfortunately, by 1983, it was evident that the interest and commitment wasn't there for people to spend two to eight months in a program without obvious income producing potential, however value laden. Still, the School of Homesteading continues to this day providing living and learning opportunities in an apprentice-like setting.

I think this reunion would be interesting and productive. It seems that the back-to-the-land thing has fizzled-out, so to speak. But the need is there now more than ever. To validate this little comer of the movement and its history is important.

If any reader has addresses or leads regarding former students we could use them. Suffice it to say, We have no idea where many people are. Also, any ideas for a name for this event? Your ideas, help, or moral support concerning the planning of this weekend are most welcome. Make sure to mark your calendar!
Jon Towne
---
Michigan Land Trustees Minutes, Meeting of September 14, 1997
In attendance: Ken and Barbara Dahlberg, Barbara Geisler, Mike and Lisa Phillips, Maynard Kaufman, Adrian Kaufman, Lee Maher, Thom Phillips, Sharon Crotser.
Minutes of April 13, 1997 were reviewed and approved; motion made by Thom, seconded by Maynard.
Treasurerís Report:
Balance of last report (4/13/97) $13,170.14
Deposits: MLT Memberships $10.00
Farm Land contract (8/96-4/97) $1745.00
Dividends $46.28
TOTAL DEPOSITS $1,801.28
Disbursements:
Newsletter print and postage $77.00
MOFFA
grant and proposal $1,100.00
membership drive and harvest festival $3,900.00
TOTAL DISBURSEMENTS: $5,072.00
Balance of September 14, 1997 $9,899.42
Motion made by Ken to accept the treasurer's report, seconded by Sharon.
MOFFA- There had been no response from the grant proposals. Policy issues are not currently popular avenues for grant money. Several other positive for the organization and other sources of income were presented by Maynard. In addition, good networking is being done by all board members. The Wheatlands Festival is interested in involving MOFFA as their food supplier. The MOFFA newsletter is looking for submissions and MLT board members are invited to contribute.
MLT Library: The library has been inventoried with results on disc. Contact Jon Towne regarding this. Ken will inquire whether the Environmental Studies Department at WMU would be interested in receiving the books as a donation. Discussion ensued regarding the current situation the ENVS Department now finds itself in as some uncertainties exist. Lisa moved that Ken be given permission to donate the MLT Library to the ENVS Dept if the department 1) remains in existence, and 2) would like the books. Maynard seconded and motion passed.
Reunion News: Information is to go out regarding the July/August reunion date. Anyone who stayed at either farm is invited as are hangers-on. Program ideas and suggestions are being solicited--music, storytelling, campfires, food, etc.
MLT Web Page: Very well done; all commented positively. Ken moved that thanks be made to Jon Towne for the nice job on the web page. Mike seconded.
MLT Newsletter: Solicitations are commg in for the next one, hopefully due out in November. Sharon has agreed to do some more illustrations. Extra copies were made of the recent retrospective issue and distributed to board members.
Miscellaneous: Sharon submitted a note of resignation from the board which was regretfully accepted. Thom was nominated and elected secretary. Maynard presented information regarding possible farm donations. How can we best handle this? Discussion to continue on this topic.

Next Meeting: Set for Sunday, January 18, 1998, at the home of Ken and Barbara Dahlberg. Potluck begins at 5pm.
With no further business, meeting was adjourned.
Respectfully submitted,
Sharon Crotser, Secretary
---
---