On Being at the School of Homesteading 1974
I have to humbly admit that the School was a real High Point in my life. It defined the simple things I wanted for myself then and now. Smart, involved companions. A mission of higher purpose. Hands in the earth. Learning. Good Food. After 14 years of marriage to my wife, Dianne Settino and having our three kids Lili, 10, Olivia, 7 and Henry, 18 months, homeschooling and living on our mini-farm and working at home as an artist, I find I have slowly found my way back to something that fulfills that simple wish list. No Fame. No Fortune. No Adventure.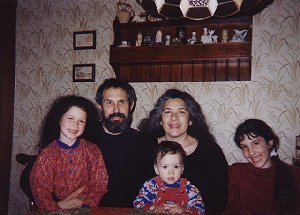 Christmas, 1997 Linus Meldrum, Dianne Settino with Olivia - 6, Henry - 1, and Lili - 9
I received my BFA in Painting from IU - Bloomington in 1981 and my MFA from the Yale School of Art two years later. I taught for a while but never landed a tenure track position. I kept encountering bitter, cynical middle-aged artist/teachers who resented the achievement of others, disinterested gallery directors and the intrusion of teaching on their studio time. While I wasn't sure I'd become one of them, I knew I wasn't mixing well with my faculty-mates. Dianne and I moved to PA in 1988 to start over on our little broken-down farmette. Her parents are about an hour away so they can visit us and their only grandkids. I found work as a Teamster dockworker in Carlisle, PA. My company went under in '95. After starting over with another company and being laid-off again, we made another big change. We went full-speed, full-time into a business creating tiny handcrafted miniatures. We market them retail and wholesale to gift shops, garden centers, florists and museum shops (The Museum of American Folk Art is a recent customer). Shops from Florida to Maine to California to Alaska sell our little creations. We also sell at art and craft shows in 5 states in the Mid-Atlantic region. After three years full-time, it's still just the two of us working at home, growing the business, dealing with self-employment stress, risk, debt and the rollercoaster ride of parenting youngsters after 40.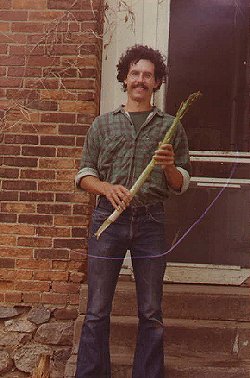 You know they say a bricklayer, under hypnosis, can recall the surface of every brick he ever laid. It wouldn't take much of a hypnotist to drag out every moment of my stay at the School of Homesteading. Its all quite there. From my first accidental visit the prior year when I sat on the front porch and talked with Sally, who was so perceptive and kind to me. To the day I left, when the big dinner table was put away for lack of guests. I remember learning to plow, milk, assist at birthings, butcher and especially, cook. All the things that all of you learned.
And proving that my memory is not all mush and butter, I remember that anger, resentment and jealousy was mixed in with the mystical and sublime. Lots of work like haying, fencing and digging was bearable only when accompanied by heaps of scatological humor. I remember bad things like nearly putting a pitchfork through Dana's neck. I remember thinking that if Molly-the Millking-Shorthorn- steps on my foot one more time I will slice off the offending leg and beat her to death with it. But I do remember having an idea placed in my hand. Only recently have I been able to close my fingers around it. That is the idea of the simple task fully done. I've realized I'm connected cell and soul with the deep past through the ritual of daily striving. Turning over a shovelful of ground, frying my daughter a beautiful egg, painting a piece of wood the exact color of pumpkin pie. My purposeful effort recapitulates the behavior of ancient bacteria, pre-human primates and my son stacking blocks on the floor in the living room. And this realization is a blessing.
Thanks to all. Apologies for missing this special event.
Linus Meldrum
---
Linus can be reached at:
meldrum@pa.net
RD 1 Box 503
Port Royal, PA 17082
717 527-2765
---
Return to Homesteading, a Compilation
---