Hi everyone:
I wish I could attend the reunion, but, alas, I cannot. I'm, sending an attached photo of my kids in the corn last summer. They are,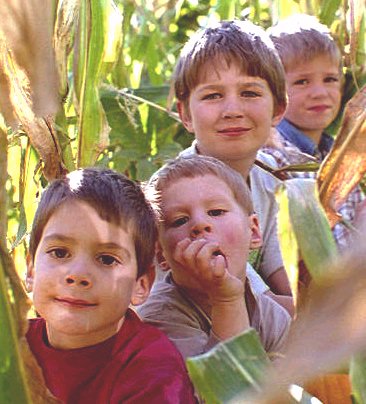 front to back, Kevin, now 7; Jonathan, 5; Patrick, 11; and Connor, 9. I will look for some others I can send email. I could fill up 20 websites with what I've written in my memoirs about my life to date, and most of it would be about the boys. I don't know what I had to talk about before they
came along.

I moved onto Dave Nagle's farm in May 1984, into an unfinished cabin. I met Ron at a contra dance and soon he was living with me. He finished the cabin, Patrick was born in '87, we married later that year. We started house hunting while we were expecting Kevin, and in '91 we bought a house
in Barnet. 4 miles from the farm. We had outgrown the little cabin. Our new home had lots of room indoors (but not anymore) but is located on a small peculiar-shaped lot. I filled what little yard space we had with gardens, and the gardens overflowed onto the properties of two nieghbors, and they
continue to grow a few feet each year. We live in the village, but there are cows in the field across the road, so it's not bad. Beyond the cows is the Connecticut River and New Hampshire's wooded hills.

Our house is full of music and musical instruments, of course. The boys play whatever they can get their hands on. Patrick occasionally accompanies pick-up bands on piano at dances. Ron and I play contra dances with various bands for assorted occasions. Ron does carpentry and occasional computer consulting, the former he would like to quit, I think; the latter being more interesting and profitable. I bought a knitting machine in '85 and started a business at home. I sell wool sweaters, hats, mittens, scarves, and other stuff at farmers' market and craft fairs. I create my own designs, which I enjoy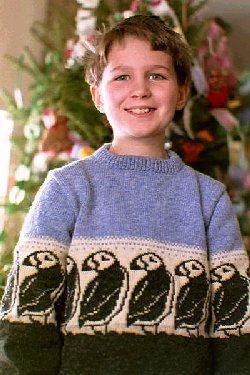 doing more than the knitting. My designs include puffins, loons, owls, chickadees, pandas, horses, seahorses, landscapes, sheep, piano keys, and others. The next design I create will be skunks. I would like to get away from the actual knitting and start selling the patterns. Maybe. I don't know how to go about doing that. I have also been writing children's stories. I mostly get the ever-popular rejection letters from publishers, but my story "The Boat House" has got an editor at Candlewick Press interested. Keep your fingers crossed.
Patrick and Connor joined cub scouts two years ago. Patrick decided it wasn't for him and he quit recently. Connor likes it; he has a lot of friends from school in his den. Kevin will join scouts next fall. The three older boys are also in 4H. Patrick has been more involved in 4H than the other boys. The club started as a horse club, but they are doing more with music now. The group has been playing recorder music, and may start adding other instruments to the ensemble. This weekend is the 4H horse clinic at the Barton fairgrounds. Kids camp at the grounds with their horses, and on Saturday they have lessons and performances, and on Sunday is the show. We do not own horses, but the boys are able to share mounts at the clinic. Patrick will be attending horse camp for a week in July, Connor goes to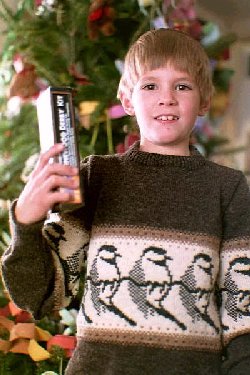 scout camp in July. Patrick is also doing Vermont Children's Theatre this summer. It is a wonderful non-profit group. It doesn't cost anything for the kids to participate, and none of the adults involved get paid anything. Kevin will be involved in more activities next year, and he can't wait. He watches his older brothers in all their doings, but there hasn't been much for him.
Jonathan just turned 5. He will wait another year before he starts kindergarten. He has some developemental catching-up to do. He loves puzzles, his wagon, cars, people, music, books, rope, rearranging furniture, homemade popsicles, cooking, breaking things, fixing things.
For anyone who wants it, my email address is: langley@barnet.k12.vt.us
Here is a poem:
The Opposed Thumb
They say I'm the one who opposes,
But have to disagree.
Instead it's the other four fingers
Who are always opposing me.
by Kate Abrams
---
Back to: Homesteading, a Compilation